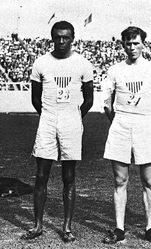 About the Author
Read more about the author and his thoughts on John Baxter Taylor…
Join Our Mailing List!
Want to stay in the know about Craig T. Williams' impassionated debut, The Olympian? Join our mainling list today and you will be notified of release dates, book signings / event, and more!

Note: Your email will only be used for The Olympian and other related material, and will never be sold to third parties.
The Olympian on Facebook
Learn More!
Visit our links page to find more historcal facts about the life of John Baxter Taylor…
Recent Tweets