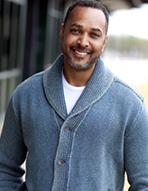 Email Craig
Learn More!
Visit our links page to find more historcal facts about the life of John Baxter Taylor…
Craig T. Williams
Founder of Vintage World, LLC, author of The Olympian: An American Triumph
A New Jersey native, author Craig T. Williams wore many hats before becoming a writer. At Syracuse University, Williams majored in business but always held a deep fascination for the study of history.
Williams is a second generation General Contractor/Construction Manager, working for Pride Enterprises, Inc., a business he started in 1996. Providing construction services in the public sector throughout the US, its clients include the Department of Defense, Department of the Interior, the Department of Veterans Affairs, and the General Services Administration, Pride Enterprises' services include renovations and additions, infrastructure and design/build projects. As President and CEO, Williams was honored as the Small Business Administration's Entrepreneur of the Year in 2005. He has also established a protégé firm, Fidelis Design and Construction, LLC, which has exhibited an explosive growth.
Having always been inspired by classic, heroic tales like that of King Arthur, Robin Hood, and The Lord of the Rings, he became exceedingly aware that most of these stories did not feature heroes that he resembled. As such, Williams has made it his mission to tell classically heroic stories that feature a diverse cast of heroes. Propelled by a passion for research, Williams' signature is Historical/Fiction. Of his new writing career, he says "it was like grabbing that loose piece of thread on a sweater and pulling and you keep on pulling till suddenly, you have the whole thing in your hands."
It is through his latest business venture, Vintage World, LLC. that Williams marries his passion for writing with the drive to chronicle the lives and achievements of those exceptional men and women who he believes have been overlooked in the pages of world history. A multimedia arts and entertainment company, Vintage World maintains a methodology that is the literary equivalent of an archeological dig, with an ultimate goal to unearth a lost mythology whose timeless heroes will entertain, educate and empower generations to come.
The first fruit of this ambition, The Olympian: An American Triumph, takes readers on a journey with Dr. John Baxter Taylor, Jr., growing up at a time of great racial divide, yet rebelled against all odds, becoming the first African American to win a gold medal at the 1908 Olympian Games. Having brushed away the dust of time to share this great story, Williams' telling of Dr. Taylor's legacy is the first of several projects bringing back to life forgotten heroes.
The Olympian on Facebook
Join Now
Sign up for our mailing list to be notified about events and upcoming release dates…
Recent Tweets